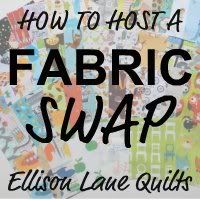 Ever thought about hosting a fabric swap but were unsure how to start?
Fabric swaps are a fun, affordable way to get a large variety of fabrics without having to buy lots of yardage.
I've hosted 3 charm swaps, all which have been fun and had great results.



I just finished up my I-Spy Charm Swap yesterday.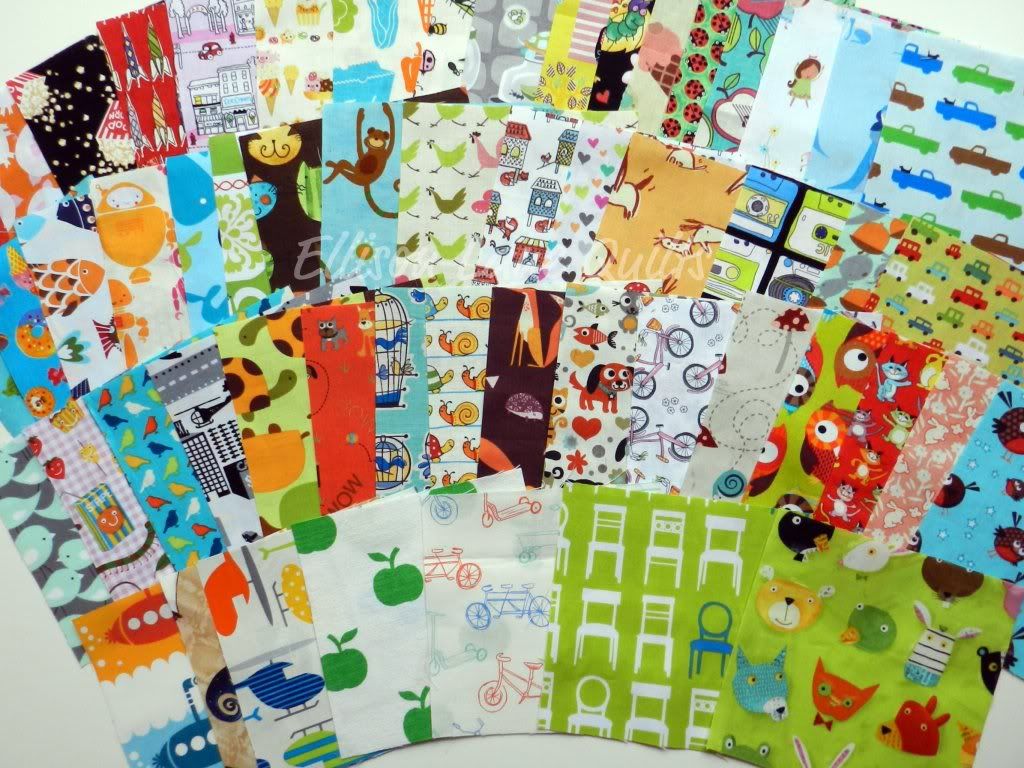 What a great variety!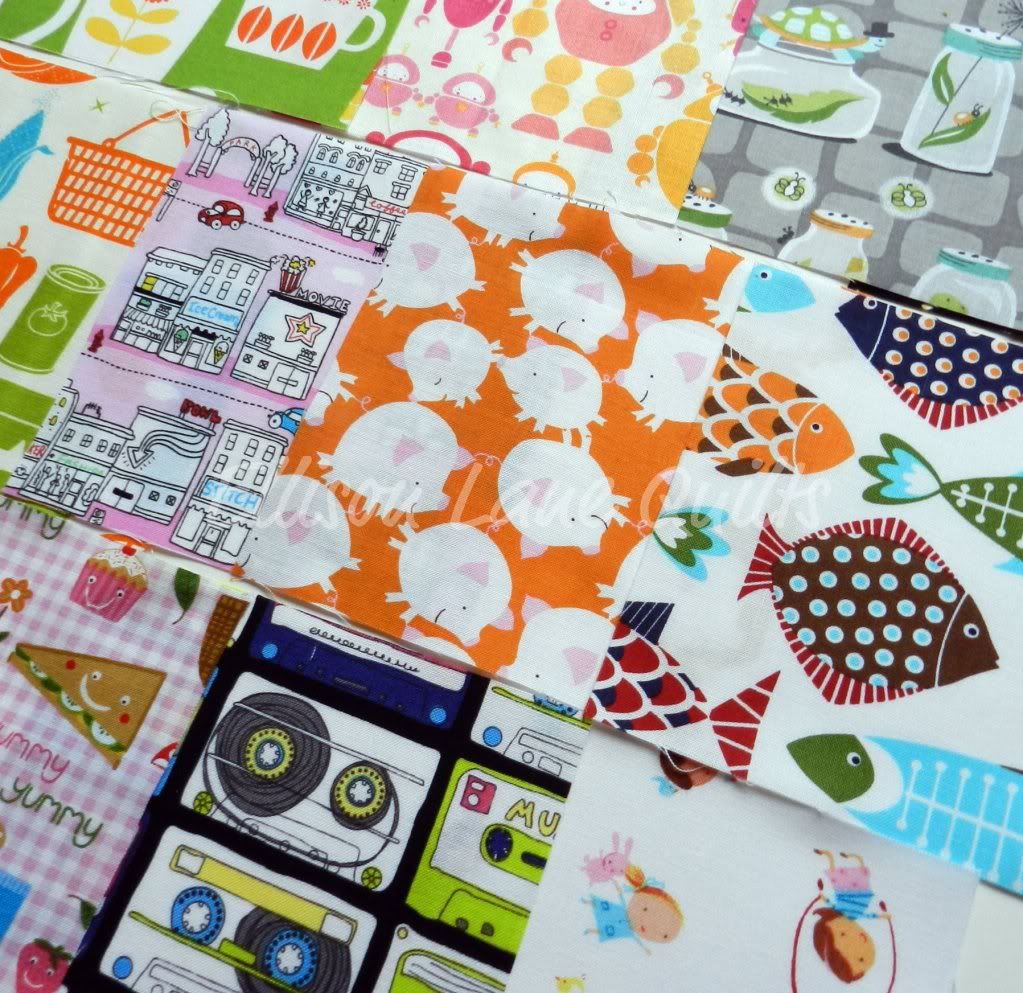 A few of my favorites
Here's how to host your own based on what I've learned along the way.
1. Decide on type of fabrics you want to swap such as a rainbow of colors, novelty prints for I Spy, or Japanese fabrics.
2. Chose what size fabrics you want to swap. Charm squares (5" x 5") are a great size because you can get 56 charms from 1 yard of unwashed fabric. You can also swap 10" x 10" squares, fat quarters, 2.5" jelly roll strips. There are lots of possibilities.
3. Decide on how many participants you want to include. This will depend on what size fabric you chose to swap.
For a charm square swap, an ideal number of participants is 28 or 56. If you have 28 participants (including yourself) everyone will receive 2 charms of each fabric. If you have 56 participants, each person will get 56 different charms.
4. Once you've made those decisions, you can decide on the other details of your swap.
Timeline
: a 5-6 week window is ideal for a US based swap. If you are hosting an international swap, you will need more time. People need time to purchase fabric, have it arrive, cut it and send it to you. If they are sending fabric internationally, it will take more time.
Fabric requirements
:
For

swapping 5" charm squares, each person will purchase

1 yard of fabric

and cut it into 5" charm squares. 1 yard = 56 charms.

(I recommend buying 1.25 yards- never hurts to have a little extra in case you make a cutting mistake.)

Choose a fabric that has a small print suitable for an 5" charms. Scale of the print is very important as

smaller works better

in this case. A larger print has a larger repeat and you want each charm to have enough of the print showcased on each piece.

If you are swapping larger cuts of fabric such as 10" squares, you could have a larger scale print.

Fabric should be designer label, 100% cotton, quilt shop quality fabric.

No Hancocks, Joanns or Michael's fabrics. For a fabric swap, the fun is receiving quality fabric that you might not be able to pick up around the corner.

Fabric must be new and unwashed and must come from a smoke free environment.

Before mailing, cut your fabric into 5" x 5" charm squares. Press your fabric before cutting. 1 yard = 56 charm squares (5" x 5".)

Here's a great tutorial on how to cut fabric into charms

by Elizabeth Hartman.

Put your fabric in a ziplock bag and include an index card with your name and email address.

Upload pictures of your fabric to the swap Flickr group and include the name of the fabric, designer, etc. This ensures that there are no duplicate fabrics chosen and allows everyone to find out more about the fabrics in case they would like to order more once they have received their charms.
Flickr:
As the hostess, you will need to create a Flickr group for the swap. Choose the groups tab at the top of the screen and create a new group. Your swap group is also a great way to build a sense of community within your swap participants as well as keep track of details. Start discussion threads in your group such as a blog roll, member introductions, and quilting plans with the fabric received. Most importantly you will need to include a discussion thread called Charms Received
. In this thread, you will post the names of each person once you receive their fabric. This lets you keep track of who's fabric you've received and lets them know that it did not get lost in the mail!
Shipping
:
Participants must include a
prepaid self-addressed, stamped envelope
along with their charms when mailing them to you. A very easy way to handle this is to include a SAS priority mail envelope for $5.15.
Smaller package envelopes are fine too but participants should keep in mind: bubble envelopes work best - no risk of tearing in the mail. Self sealing envelopes are also better. It saves the hostess from having to lick and secure flaps with tape. To figure the postage cost, have the postmaster weigh your SASE along with the charms and purchase enough postage to cover the cost. Then put that postage on the SASE and place it inside your package along with your charms.
Shipping Overseas
:
If your swap includes participants from other countries and/or overseas, they cannot send you a prepaid SASE. You will need to bill them through
PayPal
for the shipping cost. Packaging size and weight make a difference so you will need to take that into account when figuring the shipping cost.
If you have a postage scale at home, you can weigh each international package and calculate the postage price for each destination using the
USPS.
Then you can bill each participant through PayPal using a money request.
Note that you will be charged 2.9% + $0.30 fee if the sender uses a debit or credit card instead of a PayPal account to send the money so factor that in to the shipping cost.
If you do not have a postage scale, you can take the packages to the post office, mail them, and make note of how much each one costs, billing each person once you get home. This presents an out-of-pocket cost to you until you are reimbursed.
Don't forget that you also need to fill out a customs form for each international package.
It is wise to give some thought to whether or not you want to open your swap to international participants. While it does require a bit more work and slight risk on your end when it comes to shipping, it can be fun to include your friends from around the world.
5. Now you are ready to post your swap information. Include all of the fabric details from above, including links to your flickr swap group.
Create a form in Google docs with the following information: Name, email, flickr ID, and any other pertinent information you want.
Once complete, at the top right hand corner of the document, click on the "More actions" tab. Click on embed.
Copy the code that pops up in the box and paste it in the body of your blog post (making sure you have clicked the Edit HTML) tab at the top of the post box.)
This will allow the form to show up in your post so readers can sign up for your swap. The information is automatically saved in Google docs as a spreadsheet. The entries are numbered so you can keep track of the number of participants you have.
Once you have your desired number of participants, delete the form from your blog post. It is a good idea to remove the form after you have filled your requirements and have a few extra people signed up to keep them on the alternate list. Occasionally you will need to fill a space if someone drops out during the swap.
Print a master list of your swap participants.
6. If you are hosting a rainbow colored fabric swap, now is the time to assign the colors to the participants.
For 56 participants, assign 8 colors: red, pink, orange, yellow, green, blue, aqua, purple. 7 people are assigned the same color.
For 28 participants, assign 7 colors: red, pink, orange, yellow, green, blue, purple. 4 people are assigned the same color.
Using the information from your spreadsheet, email your participants and remind them of the deadline and swap details. Include their color assignments if applicable.
Packages:
7. Once the swap is under way, you will begin receiving your packages. It's fun and kind-of like Christmas each day when the mailman comes. Each time you receive a package, highlight the sender's name on your master list, check the package for contents, and place the package in a safe place. Don't take the fabric out yet. Add the sender's name to the Charms Received discussion thread in the flickr group.
When you've received all of the packages you can sort the fabric. Place all of the SASE in a separate location and separate domestic and international packages. Place all of the charm stacks on a large table and all of the ziplock bags at the end. Count to make sure you have the correct number of stacks. In an assembly line style, pick up the appropriate amount of charms from each stack and put the assembled charm packs in a ziplock bag. 56 stacks would be 1 of each fabric. 28 stacks would be 2 charms of each fabric.
This process takes a couple of hours! It is great if you have help- just be sure to go in order. You do not want to accidentally skip charms and have to go back and count or figure out which one you forgot to pick up.
Don't do this on the floor either. It will kill your back and your knees.
Once you are finished sorting, place one bag of charms in each SASE and seal it up. Then drop off your SASEs at the post office and you're all done! International packages will need postage so follow the instructions above.
Tips: Don't have 56 participants send in 112 charms (2 yards worth) each. That makes for an insane amount of sorting.
Be sure to post in the Flickr group when you mail the packages back to the participants. They are anxiously awaiting all the fun fabric! Encourage participants to post pictures of things they make with their swap fabric too. It's fun to see everyone's creations.
Whew! That is a lot of information but I hope you've found it helpful. Swaps are fun and a great way to connect with your readers as well as get your hands on some great fabric!
Now go swap!
PS: Enter the giveaway
HERE
.
xo,
Jennifer
.
.
.
.
.
.
.
.
.