So we are zooming through the
Modern Mini Challenge
Blog Hop and I hope you've had lots of fun with all the inspiration!
I met Angela in person at the Sewing Summit last fall and she is so funny, genuine, and fun. I just wished we had had more time to hang out!
You definitely don't want to miss her modern mini. It's adorable!
Angela has done some really fabulous minis that depict a story- check out more of Angela in
this interview
I did with her a while back.
Then you simply must pop on over to see Sara at
Sew Sweetness
. Sara is just so sweet (she really is) and today she has an awesome modern mini tutorial for you for this super
cool planetary quilt
!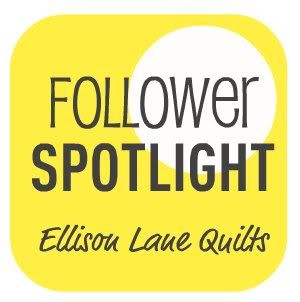 So now, after all of today's directives, I'm delighted to introduce you to the Saturday Spotlight: Paige of
Paper Starfish
.
She's got lots of talent and is another kind soul. You'll have to check out her confetti quilt too- it rocks!
Meet Paige!
Stats:
Name: Paige
Family: husband, James, and two great boys that are 6 and about to turn 2 years old
Location: Winston-Salem, NC
Blog: www.paperstarfish.prettyposies.com
Flickr: paper starfish
What is your favorite:
place: Lake Lucerne, Switzerland
sound: happy sounds from my boys
movie: Rear Window - so good!
book: Impossible to choose a favorite. I read a lot in teaching and free time. Chris Van Allsburg's books are my favorites for kids
word: avuncular
article of clothing: jeans
food: My husband's Thai chicken and rice stir fry
dessert: cheesecake - plain and creamy
fabric: Mendocino
sewing tool: walking foot
thread: Aurifil (orange spool)
color: chocolatey brown
completed sewing project: Summer Cabins quilt - wonky log cabins and lots of Mendocino
quick finish sewing project: Gathered Clutch from Noodlehead's tutorial - zippers are not my friend and this one doesn't look too bad!
coffee or tea: Neither
coke or pepsi: Coke Zero
chocolate or vanilla: chocolate
mountains or beach: Both? We go to the beach a lot. The mountains are more of a novelty that I love
football or baseball: football
dog or cat: dog
minivan or suv: suv
What is your day job? 3rd grade teacher
What is your dream job? Owning a stationery store
What is your favorite time waster? Flipping through travel magazines while watching t.v. Right now I'm loving Downton Abbey!
Oh how I love
Downton Abbey
too- y'all ARE watching the Christmas Special/Season Finale on PBS tomorrow night, right?! I can't wait!!
Be sure to pop on over to
Paper Starfish
and say hello to Paige.
Then come on back tomorrow for the final day of the
Modern Mini Challenge
Blog Hop!!
xo,
Jennifer