Hey Y'all! Come on in.
So glad you could come over for a chat today!
Have a seat and get comfy.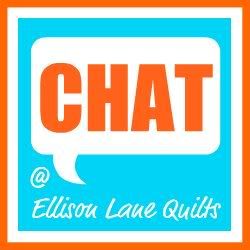 Rachel, from Stitched in Color is here.
She's full of talent and creativity, and we share a passion for colorful quilts and fabrics.
Make yourselves at home while we chat away.
ELQ: Rachel, when and how did you begin to sew and quilt?




Rachel: My mama doesn't sew. In fact, her naughty machine always broke needles and made her crazy. So, even though I went to a fashion design college after high school, I assumed sewing was not for me. Over the years, my husband has often encouraged me to learn to sew, just for practical reasons.
Summer of 2009, I finally bought myself a sewing machine with the intention of making curtains. And then I found modern designer fabrics on Etsy, and I. was. hooked.
It's funny, I "knew" I would never want to make quilts when I was sewing machine shopping, and now here I am looking for reasons to design a new quilt! I do love making quilts, but also everything else for the home. And, I hope to find my way into clothing too, someday soon.
ELQ: I love that you never thought you would quilt- me either! I wonder how many people start out that way?



ELQ: Rachel, you love color and beautiful prints and patterns. What inspires your fabric choices?




Rachel: Well, I don't know! I think that the personal allure of one print or color over another is such a reflection of personality - a lot like fashion - but it's hard to pin down exactly what drives these choices. I'm a bold, outspoken, "take charge" kind of person (and I do try to reign it in!), so I expect that comes across in my color choices! I tend to resonate with certain designers, such as

Anna Maria Horner

,

Joel Dewberry

and

Jennifer Paganelli

. I wonder if they share my choleric personality?
ELQ: Those three are some of my favorite designers too. I'd love to look at your fabric stash!



ELQ: Where do you find creative inspiration?




Rachel: Online, of course! I've noticed that I'll see sewists online using a particular print that calls out to me, and then I'll hunt it down. Seeing fabric in action is very inspiring to me! And really, the images I favorite on

Flickr

or pin on

Pinterest

are ones I go back to again and again as if I could eat them with my eyes. And, in a way I do.
They simmer inside of me, mix and develop until they emerge as something Stitched in Color after days or weeks or months have past. And it absolutely delights me!
ELQ: How did you get started blogging?




Rachel: You might be surprised to hear that I got started with a

business blog

, developed for my baby and maternity stores. And not a very successful business blog, mind you! When I started sewing rugs and curtains and quilts for my home, I started sharing those on my business blog. And people actually responded!
I held off on creating a personal blog for months, but finally caved. By that time I was already reading many blogs and being active in the Flickr community. I chose to blog in order to be connect more with my new friends and to enjoy the feedback on my sewing that is such an incredible benefit of blogging.






ELQ: You're a busy working mom- how do you juggle it all? (family/work/homeschooling/sewing/blogging?)


Rachel: So this question makes me nervous. Particularly right now when my kids have just left for a trip with the grandparents and I'm supposed to get a ton done while they're away.
First, I don't. No one can do it all. We all have the same 24 hours and we all make tough decisions on where to invest our very finite time. I think,

I think

, that I stop to get perspective on what I "should" be doing pretty often though. I try not to fall into default patterns of behavior, but to really evaluate what's important

right now

.
I believe in doing one thing at a time. So, I don't blog while I parent (though I sew while I spend time watching TV with my husband, hehe). I do carve out a rhythm for my days and for my week that includes designated time for all the many things that are important for me. And sometimes it is too much. And sometimes that really sucks. So I have to adjust my expectations and go back to that evaluating thing.
ELQ: Thank you for your honesty here. I know that this is something I struggle with- finding time to do it "all" and do it well. I think it is a constant reevaluation of expectations and we have to keep in mind that each day is a chance to start new.
ELQ: Your creativity is infectious and thus have a very successful blog. What tips can you give other bloggers?




Rachel: I have to say that my blog's success mainly takes me by surprise. Sometimes I think it's built on regular, frequent posting and starting things like quilt-alongs and the Blogger's Pillow Party, which help build community. Other times I think it's just luck - someone stumbles a post or shares a link in a traditional quilting forum and all of the sudden new folks are visiting.
My advice is that you make sure you're enjoying whatever you're doing, even the blogging. Have fun with it and be yourself, totally honestly yourself. And get involved with what others are doing whenever you can!



ELQ: You have an inspiring sewing bee program called do. Good Stitches. How did that get started and what's it all about?




Rachel: Oh dear, that's a long story! So, since you asked, I'm going to be honest (see above). I started

do. Good Stitches

because I felt like God was leading me to make my sewing a blessing for others. Because life is not all about me.
I really do plenty of sewing for my home, which is a great thing, but sometimes I need a little push to keep doing for others. When I searched for an online quilting bee that made quilts for charity, I couldn't find one. So I made one.
It's designed to be able to keep growing, with new circles added almost monthly, so that more and more folks can get involved with making quilts for children in need. We donate to all sorts of charities like

Project Linus

and Wrap Them in Love. If you enjoy working with a modern quilting style and are active on Flickr, please join the wait list with this

registration form

.




ELQ: I signed up. Thanks for the great info!
ELQ: What completed project do you love the most?




Rachel: Don't tell my other projects, but I love my original Colorbrick Quilt the most. Because it was

my first quilt

. Because it was a great

quilt-along

. And, because it features my favorite fabric collection so far - Good Folks by Anna Maria Horner. But, I almost said my

patchwork rug

, because it gets the most use. And, I almost said my

makeup roll pattern

, because I think it's so unique. Darn, you made me brag. Well, if you want, you can see most of my projects organized and cataloged

here

.






ELQ: What are you working on right now that you are really excited about?




Rachel: You're not going to like this answer, but I'm really so excited about my book! You know, the imaginary one. I feel like my concept is so unexpected and thus exciting that it kills me that I can't share it with you all yet. Ugh.
On the one hand I am so excited about it and on the other hand I know that it won't happen unless I make it happen, which is going to take such an incredible amount of focus and energy. It's daunting. But, if I don't make it happen I'm going to be kicking myself from here on out. So, I've got to make it happen, but I've got to homeschool too. I'm really hoping that the time adds up somehow so that I can keep up regular blogging at Stitched in Color during the process.
ELQ: The book sounds intriguing, and it must be an awesome feeling to have such a great idea bubbling from within. Can't wait to hear more about it when you can spill the beans.

Rachel: Well, a dress. By golly, I will make a dress, I will! In fact, I'm currently brainstorm how to add more structure to my dress-making-dreams so as to force them to become reality. Oh, is that not exciting for you? Well, of course I'll keep making quilts, and I love hosting quilt-alongs. I have a pretty cool Accuquilt giveaway coming up too! Since I have this thing for color, I'm likely to create some kind of community event that involves color. But, I better let that idea keep stewing, while I focus on this book proposal.
ELQ: A dress -yea! Can't wait to see it. I have yet to make any clothing -maybe one day. I am always inspired by others, and yours is no exception.




Rachel: A very sincere thanks to those of you who regularly visit Stitched in Color. None of this would be possible without your generous feedback and ongoing inspiration. Thank-you from my heart!
ELQ: Rachel, so glad you came by today. I so enjoyed our chat.



Don't you love Rachel! What is your favorite project of hers?




*All photos are courtesy of Rachel and Stitched in Color.