It's been a bit busy around here, and I haven't had a Follower Spotlight in a while. Sorry about that!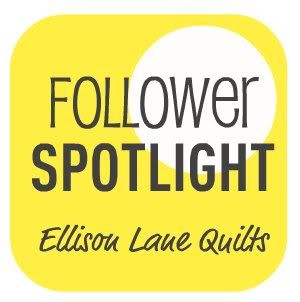 Today I am thrilled to showcase a super fun blogger who often makes me laugh. She is a really kind and creative person too. (Such a great combo!)
Meet Nicke!
Stats:
Name:
Nicke, (as in nikki, nickie, nicky...)
Family:
hub spencer, miss S (almost 4), mr. H (1 ½)
Location:
Idaho
Blog:
http://kisskissquilt.blogspot.com/
Flickr:
http://www.flickr.com/photos/51163828@N07/
What is your favorite:
place:
anderson ranch reservoir in pine idaho
it is a beautiful place in the summer and the winter.
sound:
the ocean
movie:
the big lebowski, the town, forrest gump
book:
pride and prejudice, atlas shrugged
word:
smooch
article of clothing:
my bras. after two kids they help... a lot.
food:
mexican.
dessert:
pie... oh how i love pie!
fabric:
kona white... and hope valley. hoping for some hope valley from santa.
sewing tool:
my babylock "grace" and extra needles. lots and lots of needles in a variety of sizes... oh and oil for my "grace"... she sure likes to be lubed up!
thread:
loving sulky right now. and gutermann
color:
go ahead and guess.... blue of course.
completed sewing project:
wonky stars for captain eric. i made this quilt for my little nephew. we were so excited that he was coming. this quilt was a plethora of firsts for me... my first wonky star, my first completely improv quilt, my first go at random straight line quilting, and my first dance with this lovely remix fabric. i loved everything about the whole process. and since he lives quite a far away from me so i wanted him to have something from me, from us. something that would make him warm, something that i could pour all of my love and happy thoughts into just for him. so that when he is wrapped up in it, even though we are not near him, he can still feel our love.
quick finish sewing project:
christmas pillowcases! they were so fun to make, sooo easy, and my kiddos love love love them.
coffee or tea:
tazo tea... passion and wild sweet orange.
coke or pepsi:
cherry coke
chocolate or vanilla:
chocolate cherry cordial hershey kisses... i admit i have already eaten my way through a bag of those little delights!
mountains or beach:
both... see the link to anderson reservoir above...
football or baseball:
baseball, for sure!
dog or cat:
cat.
minivan or suv:
SUV! i told my husband before he asked me to marry him if he ever would make me have a minivan i would tell him no. this was the conversation... you will say, "my dearest nicke, will you marry me?" and then i will say "will i ever have to have a mini van?" and then you will say "NO!!!" and then i will say "YES!!!" i am pleased to say he has held true. i am driving a 4-runner that i love!
What is your day job?
i have a full time take care of my two kids job that i love. i also have a part time job as a hospice social worker. i provide bereavement support to all of our patients and their families. it is a great job and enables me to have some adult time.
What is your dream job?
i would love to be a long arm quilter. someday!
What is your favorite time waster?
Pinterest! but i like to think of it as an organizational tool, not a time waster! ;) who am i kidding right!
See, she's great, right? Knew you would like her. Now go pop over to her blog and have a look around and say hello!