Speak up! I want to hear from you!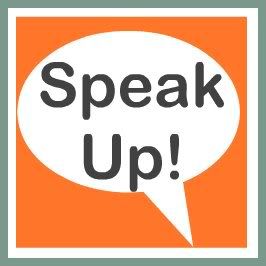 Please take a minute to fill out this SHORT survey. It will take 2 minutes, tops!
The answers are anonymous and they'll really help me plan ahead for my next blogging projects.
Thank You!!!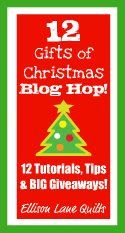 Now, today is the last day of our
12 Gifts of Christmas blog hop
, and we've saved a really great blogger for our final tutorial. Jump over to
Vanessa's Little Big Girl Studio
and check out her awesome gift tutorial. You'll be glad you did. (She has mad skills!)
Plus you'll want to be sure to enter her wonderful $50 giveaway
Missed any of the amazing tutorials along the way? Here is the complete list.
Friday, October 14- me (Jennifer/ Ellison Lane Quilts)/placemats
Saturday, October 15- Ayumi/Pink Penguin/fabric baskets
Sunday, October 16- Amy/ Lots of Pink Here/needle book
Monday, October 17- Faith/Fresh Lemons Quilts/iPad case
Tuesday, October 18- Penny/Sew Take a Hike/trivet
Wednesday, October 19- Kati/From the Blue Chair/table runner
Thursday, October 20- Lee/Freshly Pieced/lego playmat
Friday, October 21- Elizabeth/Don't Call Me Betsy/tote bag
Saturday, October 22- Melanie/Texas Freckles/ruffle clutch
Sunday, October 23- Lindsay/Craft Buds/patchwork scarf
Monday, October 24- Amanda/A Crafty Fox/lunch bag
Tuesday, October 25-Vanessa/Little Big Girl Studio /wallet/organizer
And don't forget, today is the last day to take advantage of the special 15% off discount at
Fabricworm
. Just use the coupon code
fw12 days
!
Have a great Tuesday!