So I tried my hand at paper piecing the other day and while I am no where near the level of fabulousness that is my sweet friend
Ayumi
, I am pleased with my results.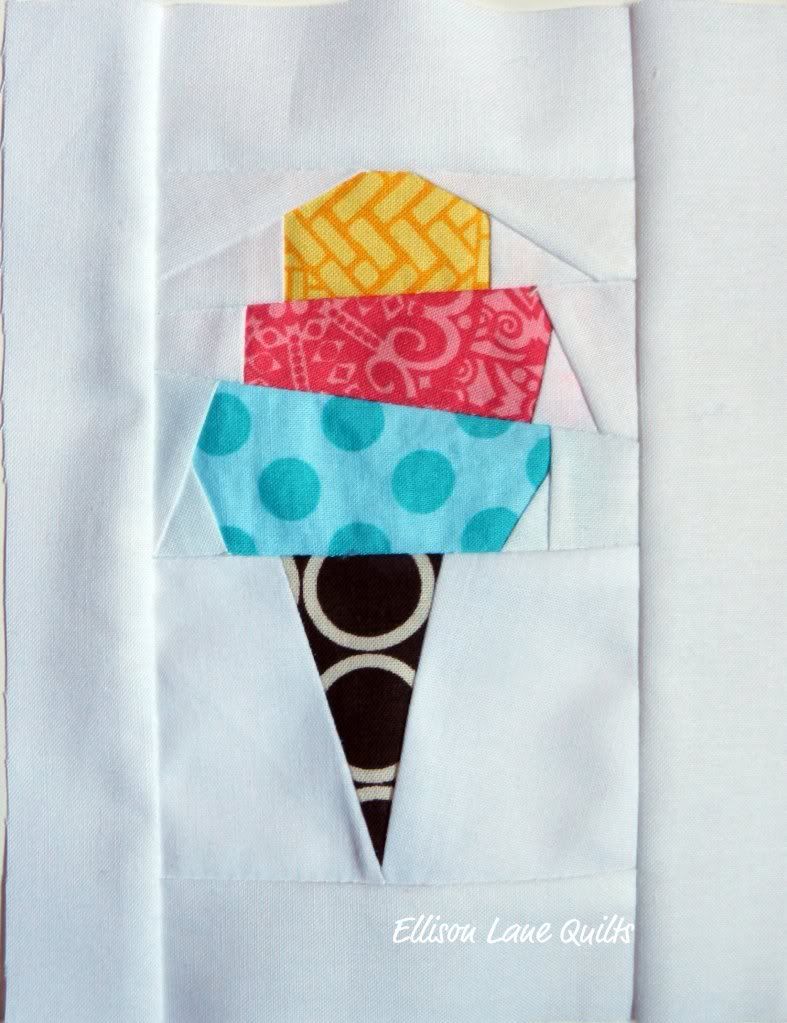 My tiny ice cream cone- This block is 5.5" x 7"
I used
this tutorial
and my handy-dandy
Add-a-Quarter ruler.
(Thanks
Courtney
!)
That ruler is super as it adds your seam allowance and makes it much easier to paper piece. There are lots of tips and tutorials for using the
Add-A-Quarter
on their website. I've actually spoken to Carolyn, the lady that designed the Add-a-Quarter ruler, and she is super helpful.
She also recommended using the add-a-quarter ruler when you sew with a template by cutting on the stitching line then you can use the add-a-quarter ruler to add a seam allowance without cutting your template. This might work great for all of you farmer's wives out there!
OK, so back to paper piecing:
Gail, a fellow
CLTMQG
member, taught a workshop on paper piecing recently and she recommends using a fabric glue stick to dab a little on your first piece of fabric to adhere it to the paper. Don't forget to shorten your stitch length too.
Gail's a big fan of
Carol Doak
's paper and her website. There are lots of free paper piecing patterns on there too, including one on
designing your own blocks.
Hopefully I'll have some time after the
Sewing Summit
to give paper piecing another try. I think it might be something that gets easier with practice...
What are your thoughts about paper piecing? Have you made your own patterns?