Wow, today is a BIG day! First of all, you can find me over at
Sew We Quilt
today. Pop over and check out my tutorial and enter to win the great
GIVEAWAY
! Not registered yet or unsure of how things work in the Wantobe Quilter campaign? You can find out all you need to know right
HERE
.
Today is my turn for MUG RUG MADNESS: The Holiday Edition!
When do you get your Christmas tree? We always get ours the first weekend of December but I start thinking about the holidays as soon as fall arrives.
Fall is my favorite season, and I don't like to rush it, but it also makes me think of Christmas. I like to do my holiday shopping (or at least planning) early.
When Erin from
Two More Seconds
asked me to be a part of the
Mug Rug Madness Holiday Edition
, I was so flattered and immediately said yes. Honored to be among such a talented group!
The
Fat Quarter Shop
graciously provided festive holiday fabric for us to use while creating our mug rugs. You know I love them (they are an ELQ sponsor) and appreciate their wonderful selection of fabrics, great
FQ bundles
and super fast shipping. They also have a
new pattern line
that you should check out.
So it was a lot of fun working with the jolly
Ready, Set, Snow!
fabric from Moda. I wasn't sure what I was going to make until I laid all my fabric out on my table and the graphic prints of the stripes and squares jumped out at me. A quick sketch and wha-la, I knew what I had my idea.
It's simple but effective and showcases the holiday fabric without being over the top. If you would like to make one too, here's how:
Supplies Needed:
4 Fat Quarters of Ready, Set, Snow!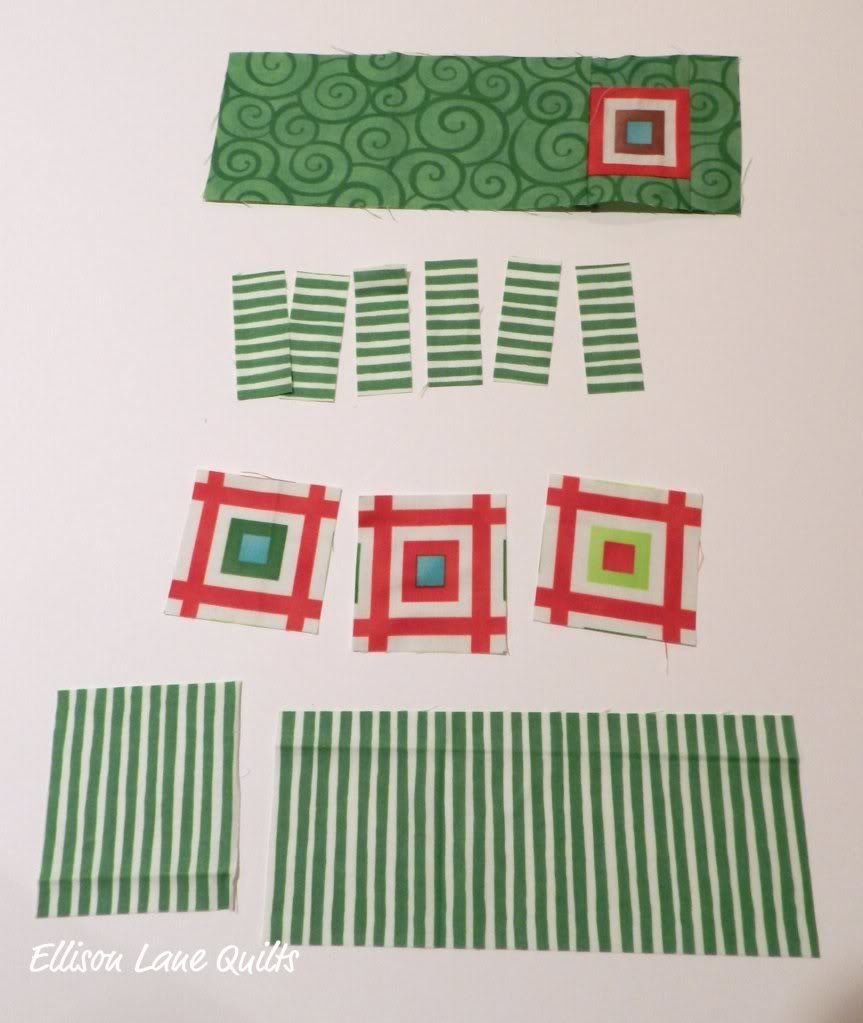 The top piece is an example.
1. Cut out 3 red squares, .25" on the outside of the red border. Your squares should be 2.5" x 2.5".
2. Cut 3 strips of green stripe fabric, 3.25" wide x WOF (using a FQ).
3. Cut a 3" strip off the end of the green stripe pieces. From your reserved green stripe fabric, cut 6 pieces 1" x 2.5."
Pay attention to the direction of the stripes!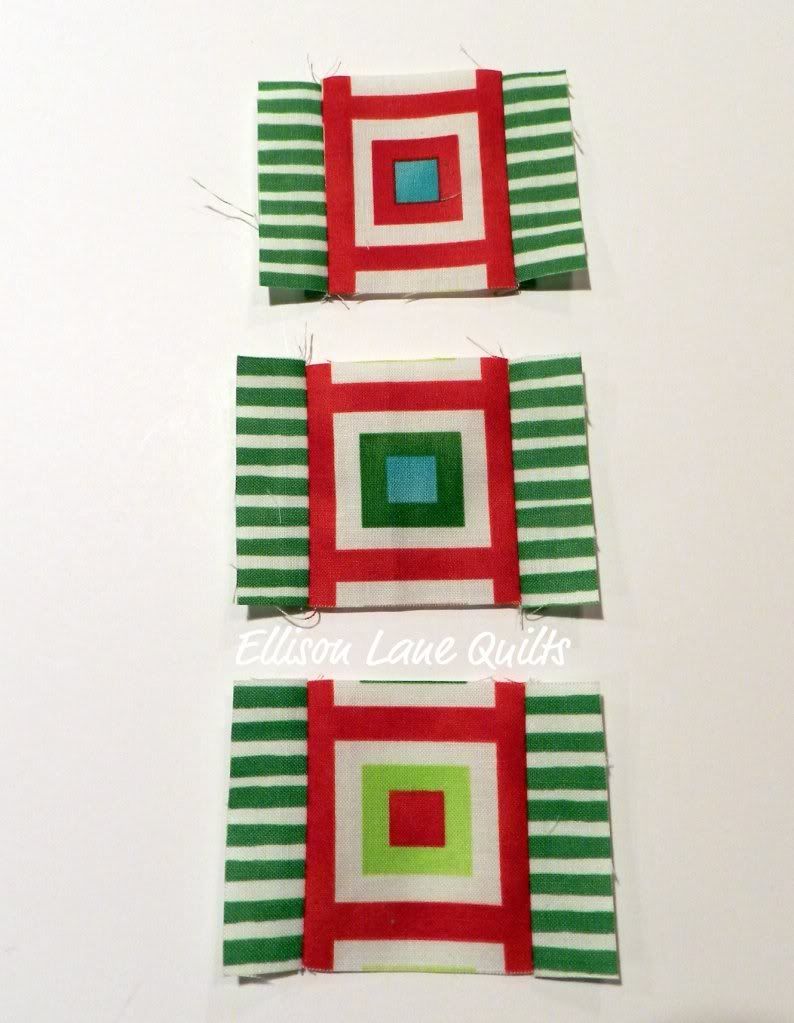 4. Sew the small green stripe strips to 2 sides of the red squares. Press seams open.
5. Center and sew on your red square strip onto the long green striped strips. Then reattach the 3" strip you removed previously.
6. Press seams open.
7. Trim up the sides of your strips so they are 3.25" wide.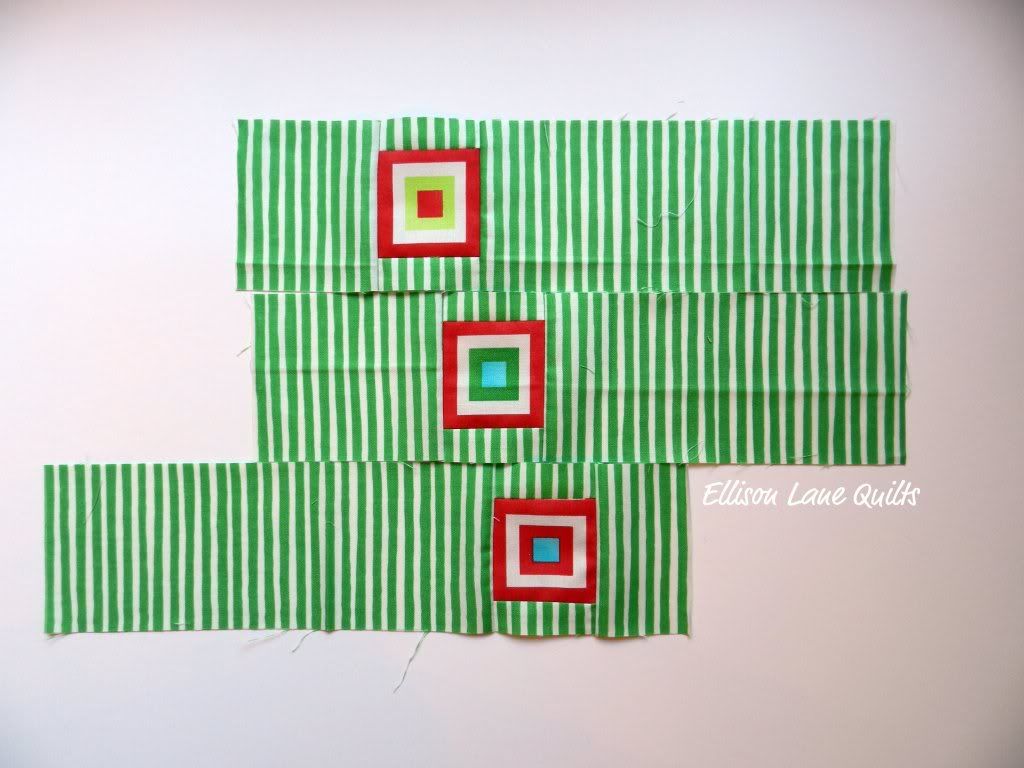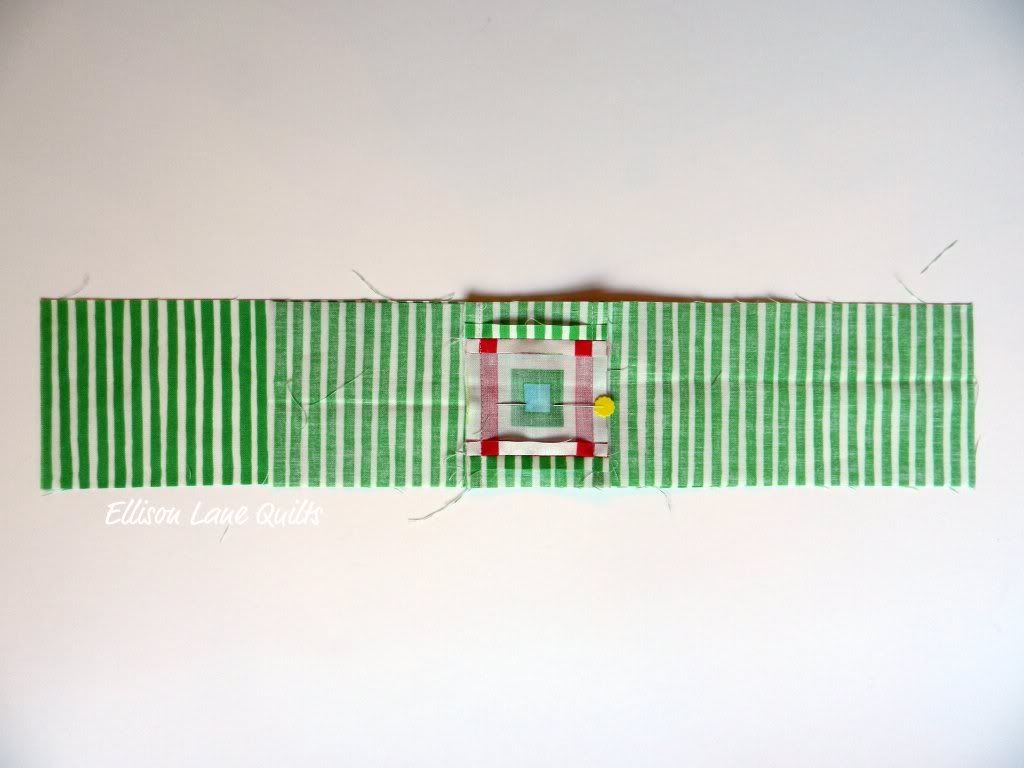 8. Line up your strips in a layout you like, pin and sew them together (right sides facing.)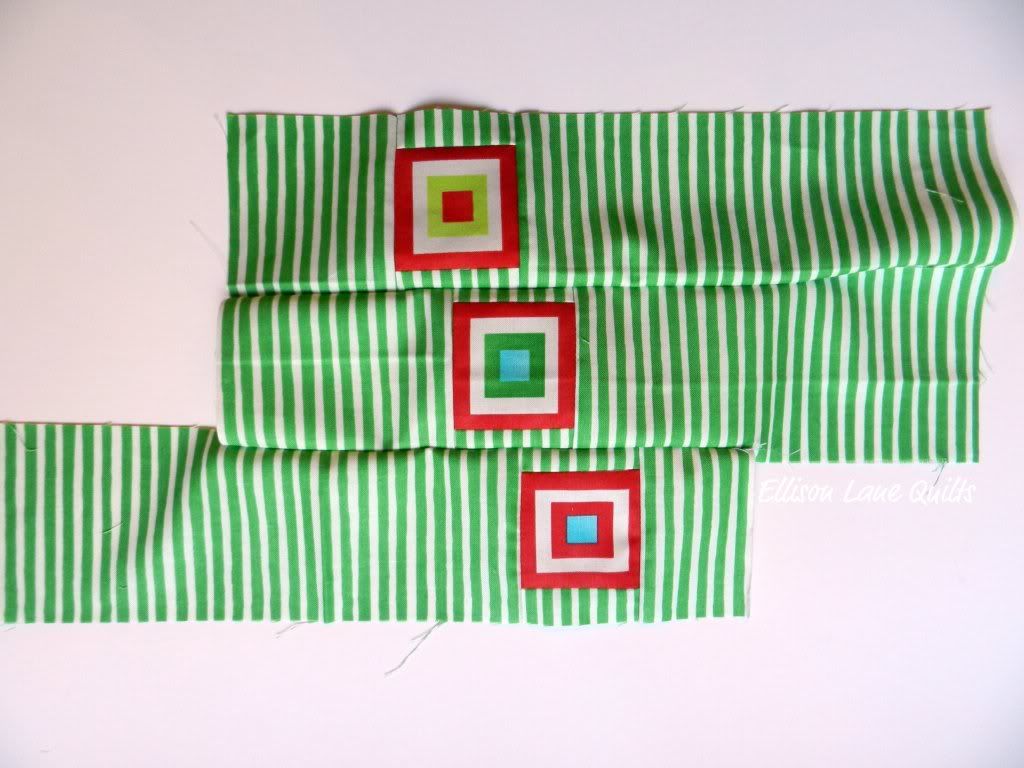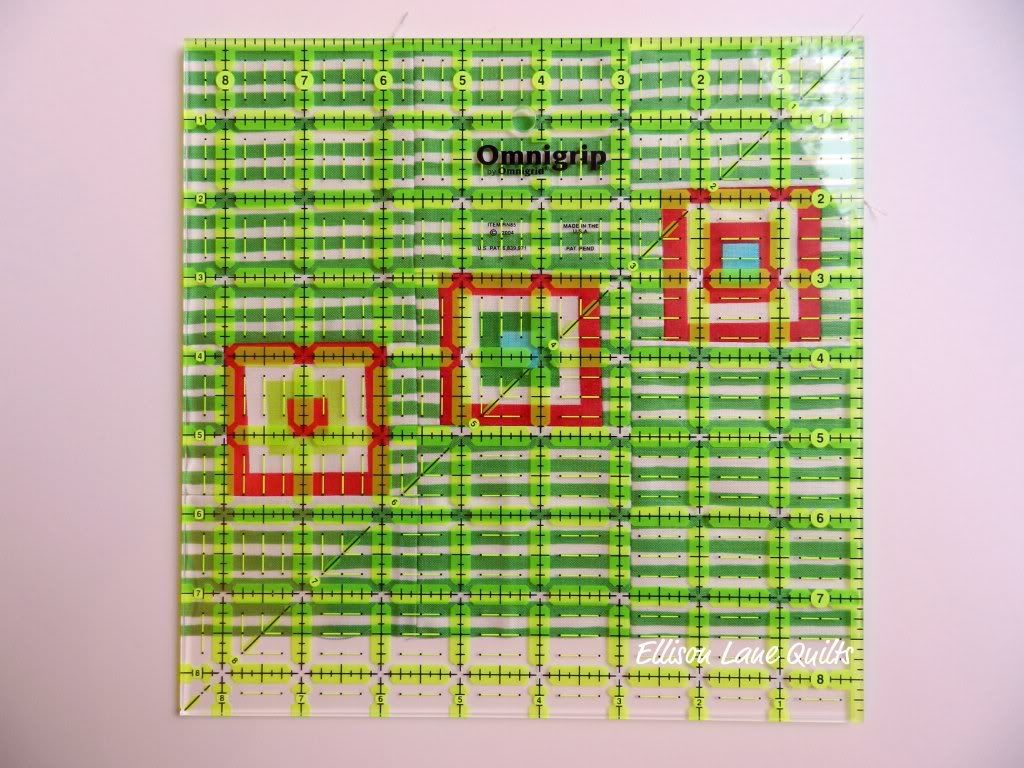 9. Press your seams open and trim your mug rug to 7.5" x 8.5."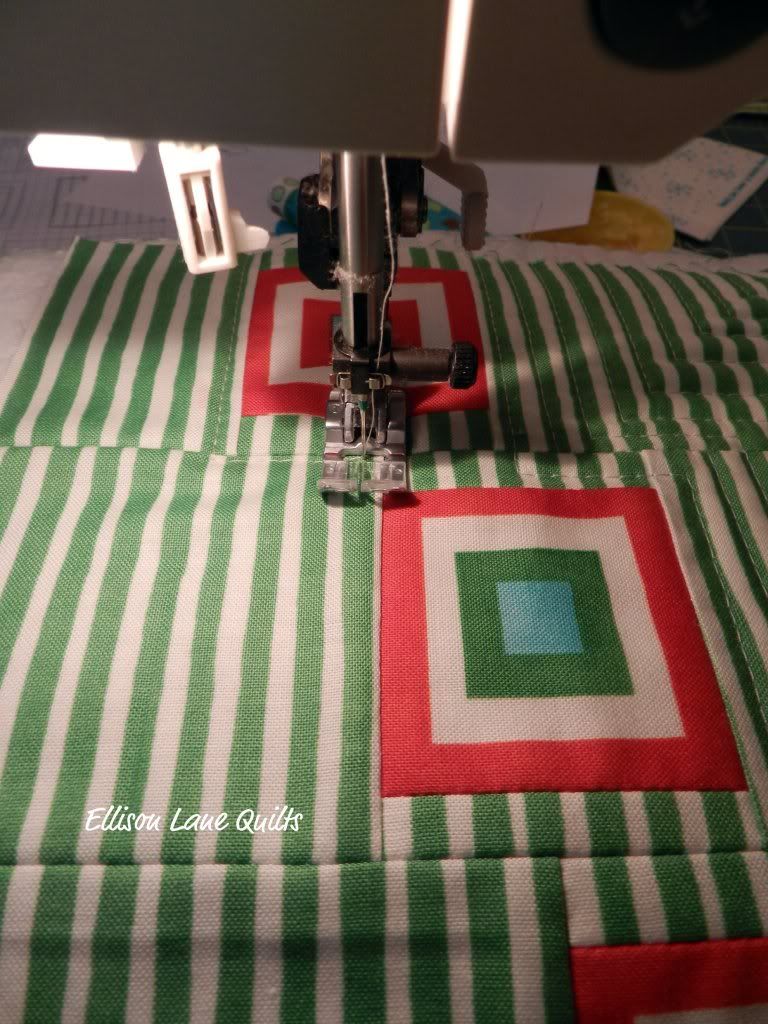 10. I spray basted my mug rug and then quilted it in straight lines outlining the red squares.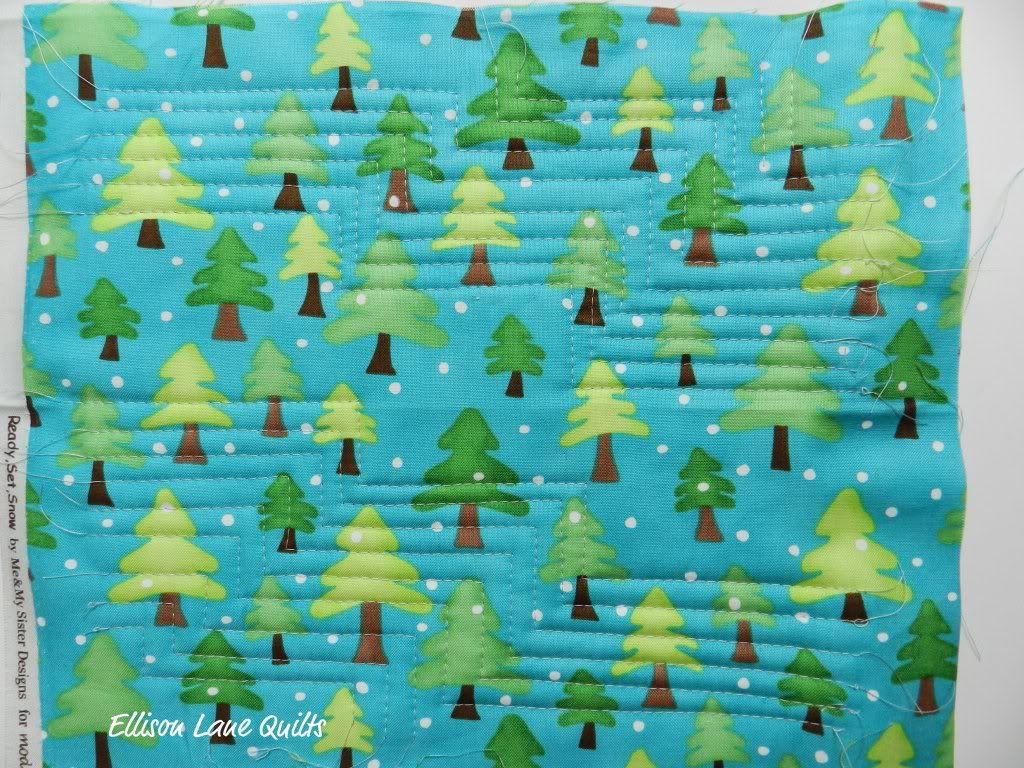 Then I bound it as I would a regular quilt.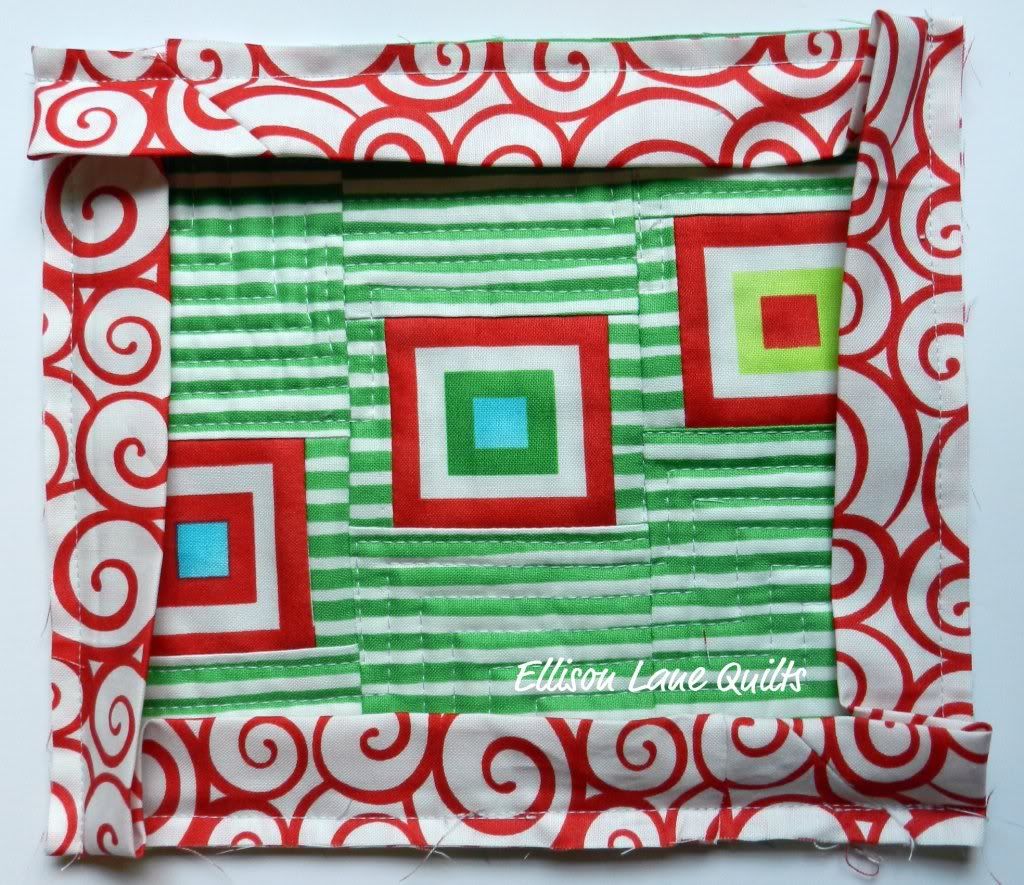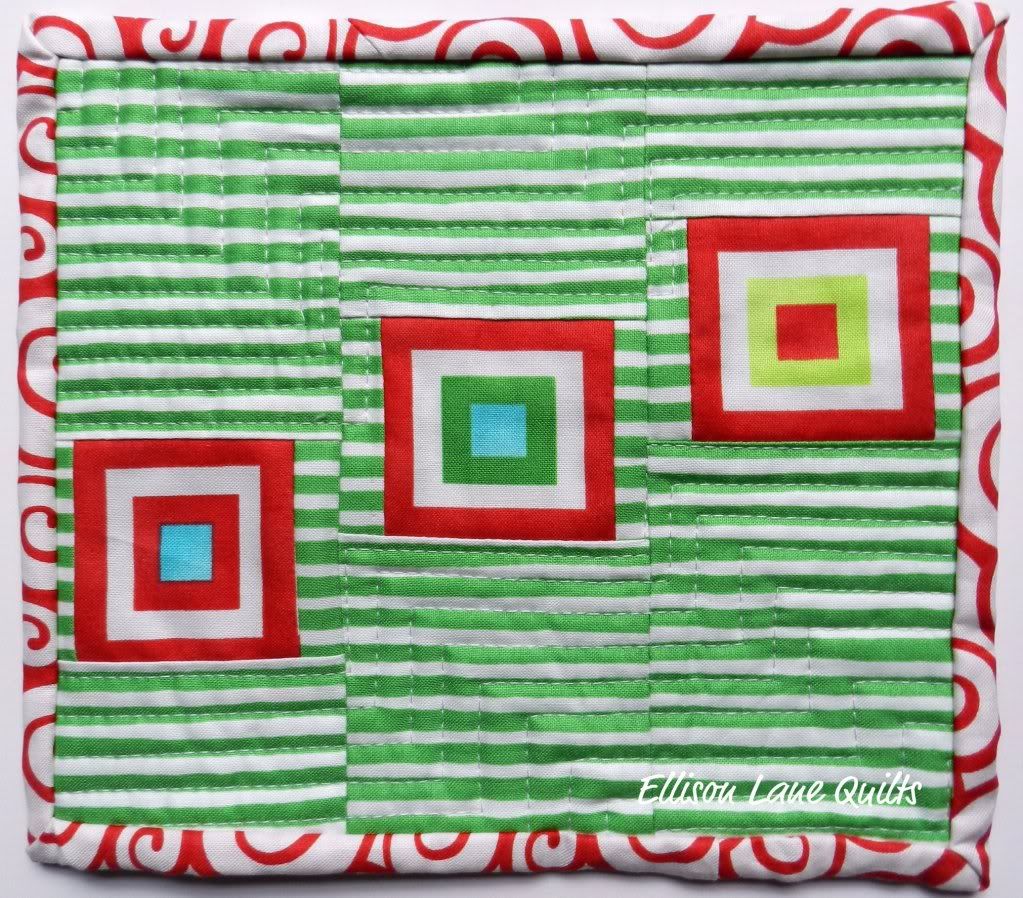 I hope you enjoyed my little holiday mug rug tutorial. Be sure to pop over the the
Mug Rug Madness Giveaway
page at Two More Seconds to enter to win holiday charm packs and this little mug rug.
If you missed any of the previous installments of
Mug Rug Madness the Holiday Edition
, you can find all the posts
here
.
If you make a holiday mug rug or a mug rug for any occasion, we would love to see them! Post pics in the
Mug Rug Madness Flickr Group
and the
Ellison Lane Flickr Group
.
Now hurry over to
Erin's
and enter to win then be sure to head over to Madame Samm's at
Sew We Quilt
for that giveaway too!