Welcome to my new Follower Feature, the Saturday Spotlight!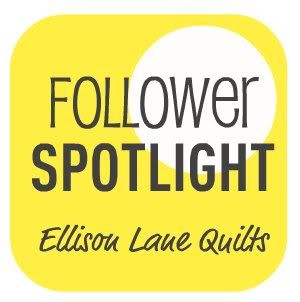 Today, I'd like you to meet Christine.
Christine is the crafty talent behind these goodies. She knocked my socks off when she sent these surprises to me along with her charms for the
Rainbow Charm Swap
.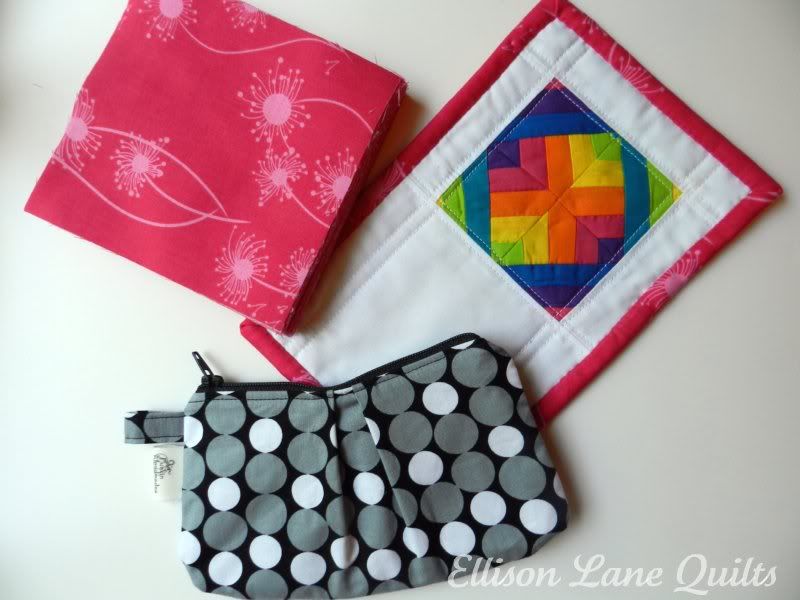 A generous soul with a passion for fabric, she's a crafty girl we would all like to know.
Here's Christine...
Christine with her nephew
Kayce's Quilt
Stats:
Name:
Christine
Family:
My husband, son and I (and 3 dogs, a cat and 2 fish)
Location:
Northern Illinois
Blog:
www.punkinhandmades.blogspot.com
Flickr:
Punkin Handmades
What is your favorite:
place:
Home
sound:
My son's laugh (is that cheesy?)
movie:
October Sky. It's hard to pick just one.
book:
Any Mystery
word:
Fantabulous, dose that count?!
article of clothing:
Flip Flops
food:
Fettuchini Alfredo
dessert:
Ice cream, cookies, ice cream with cookies in it!
album:
I don't know... I listen to Glee songs when I sew, I have them all!
non quilting/sewing website:
Pinterest or Etsy
fabric line:
Katie Jump Rope (even though I will probably never own it).
sewing tool:
My sewing machine!
color:
Turquoise, aqua, anything in the blue/green family.
completed sewing project:
Kayce's Quilt
quick finish sewing project:
This large zip pouch.
coffee or tea:
Tea, I love chai!
coke or pepsi:
Coke
chocolate or vanilla:
The older I get the more I pick chocolate, but usually vanilla.
mountains or beach:
Mountains
football or baseball:
Football, Go Packers! :-P
dog or cat:
Both
minivan or suv:
SUV, but I drive a minivan.
What is your day job?
Riley's Mom
What is your dream job?
Anything in design or anything where I was creating something.
What is your favorite time waster?
The Internet! (Pinterest, Etsy, Blogs!)
You win the lottery, what is the first thing you buy?
A newer car, then bolts and bolts of fabric!
Be sure to pop over to
Punkin Handmades
and check out Christine's blog.
Thanks for being a follower of ELQ Christine. Love having you here!