Hope you've all had a great weekend and survived Irene, safe and sound.
It's time to get sewing on our Across the Sea Quilt!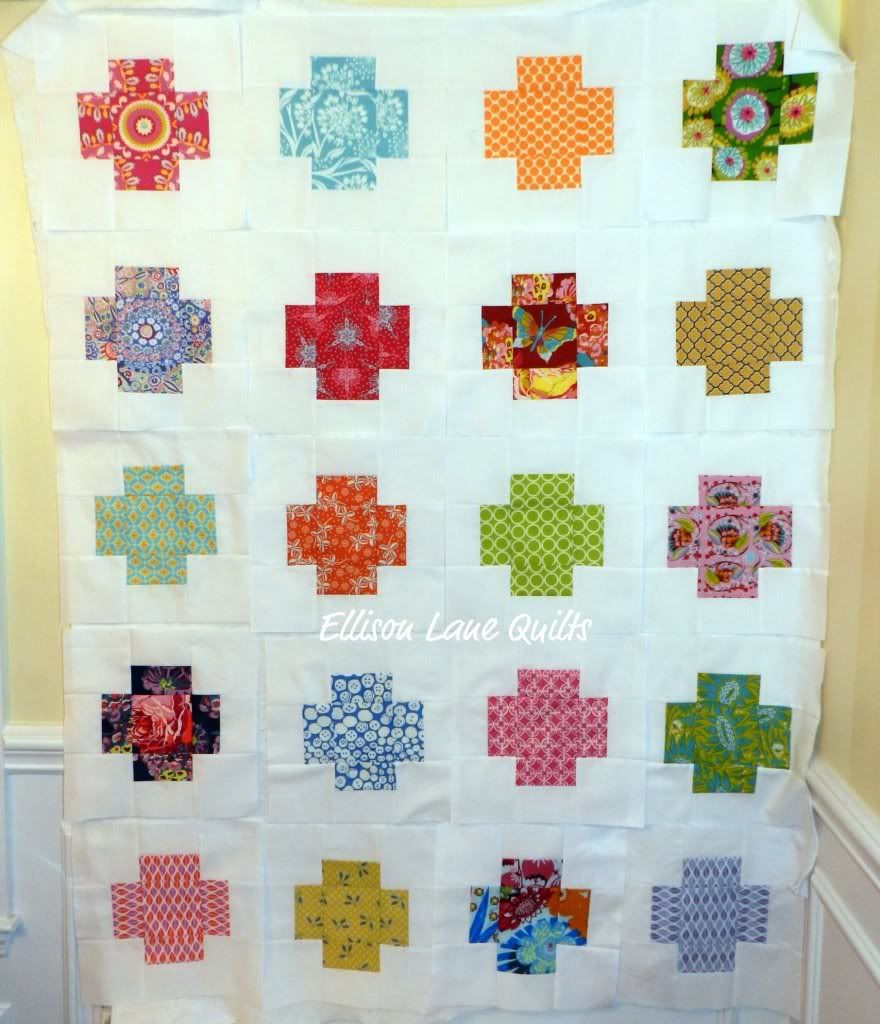 Cross Blocks on my Design Wall
You can find all the posts for this Quilt-Along here.
Before we begin, please make sure your blocks are cut the correct size. There was a typo in the background measurements in my cutting post. (Now corrected.) SO SORRY!
The correct measurements for all of the pieces are:
Cross Fabric: (1) 4.5" x 4.5" middle
(4) 4.5" x 2.5" arms
Background Fabric: (4) 4.75" x 4.75" corners
(4) 2.75" x 4.5" arms
(If you cut your background arm pieces 2.75" x 4.75" you need to trim them to 2.75" x 4.5.")
Materials Needed:
fabric cut into pieces as indicated above
sewing machine
iron
thread
12.5" x 12.5" square up ruler
First: Sew your blocks with a SCANT 1/4" seam. (A scant quarter inch seam is slightly smaller than 1/4" and for me this means moving my needle over one place to the right, but you can find out more by reading this. )
Remember, if you turn off your machine and come back, you need to move your needle again. Do yourself a favor and put up a sticky note on your machine to remind yourself! Trust me!
A quick way to piece these cross blocks is to chain piece them. Sarah explains how to do this in her post today and you can also find more info on chain piecing in our flickr group.
If you fussy cut some of your blocks, as I did, you will want to mind the direction of your arms on the cross. You can chain piece your arms then follow the steps below.
I press my seams OPEN. (Here's a great link to how to press seams open.) I do not backstitch as I piece.
1. Lay out your fabric as you like it.
2. Sew the arms to the middle square of the cross.
3. Sew the background arms to the cross arms. (You can do this to all arms now or just the top and bottom.)
4. Turn your fabric over to the back and press the seams OPEN. (Do not move the iron back and forth, just lift and press the iron down.) Press again on the front.
5. Sew the corners to the cross arms on the top and bottom rows.
6. Press the seams open as in step 4. (If you didn't sew the side arms of the background on already, do it now.)
7. Take your top row and place it right sides together with your middle row. Line up the seams and pin the top and middle rows together.
Sew them together making sure the seams on the bottom are flat as you go.
8. Sew the bottom row to the middle row as you did in step 7.
9. Press seams open and press the front.
Squaring Up your blocks:
The block you just completed will be close to 13" x 13" but before we sew them together for the quilt top, they need to be trimmed to 12.5" x 12.5."
Using your 12.5" x 12.5" square up ruler, position the ruler in the middle of the block and trim the excess from each side so your block is now 12.5" x 12.5" square.
Please let me know if you have any questions. I am happy to help! Our Flickr group is also a great resource. Be sure to check it out.
Up next: Design and Layout Tips on Thursday!