This swap is now closed.
Who's ready for round 2?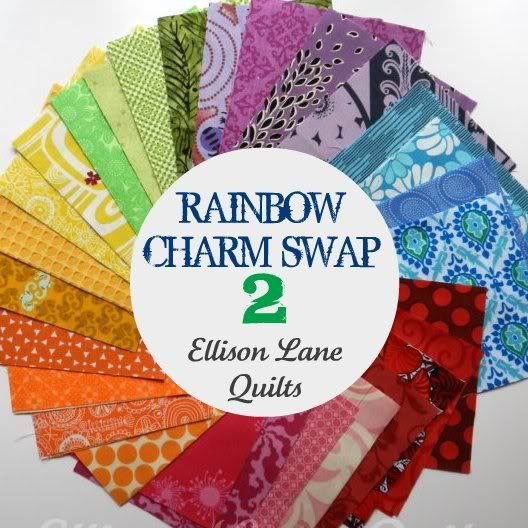 This time with a little switcheroo...
The PLAN
:
There was so much interest in the first swap that this one will be open to
56
participants.
1. Each person will be assigned a color. Once all the swap slots are filled, I will email you your color assignment. (red, pink, purple, blue, aqua, green, yellow, orange)
2.
NEW
! Purchase
TWO
yards of fabric in your assigned color.
*No solids please. Take note of the scale of the print as large prints are not best for charm squares. Pick something you
LOVE
!
This go-round, feel free to choose something that has some other colors in it, as long as the fabric reads your color. (Meaning, if you stand back to look at the fabric, there is no question as to what color it is.)
For instance, here are my choices for the swap: (images courtesy of
Fabripalooza
.)
Kumari Garden Holiday Collection


3. Fabric must be designer label, 100% cotton, quality fabric.
No Hancocks, Joanns or Michael's fabrics.
4. Fabric must be new and unwashed and must come from a smoke free environment.
5. Before sending your fabric to me, cut your fabric into 5" x 5" charm squares.
Press your fabric before cutting. You may want to purchase a slight overage in case you make mistakes cutting your charms.
1 yard = 56 charm squares (5" x 5".)
Here's a great
tutorial on
how to cut fabric into charms
by Elizabeth Hartman.
6. Put your fabric in a ziplock bag and include a 3x5 index card with your name, email address, mailing address, fabric info (
designer, manufacturer, line, color.)
I will compile a master list of fabrics and email it to you once the swap is complete.
7. In your envelope, include, the charms in ziplock, the index card a
PREPAID SELF ADDRESSED STAMPED ENVELOPE
for me to mail your charms back to you! This is new and very important! I will NOT be billing through Paypal this time.
8. All charms must be in my hands by
Saturday, August 13
! I will mail charms back to you the following week.
Please join the
Flickr group
and post pictures of your fabric so we won't have any repeats.
OK, so are you ready to swap a rainbow?
Complete the form below to sign up!
Grab the new blog button and leave a comment so we'll know who's participating.

Feel free to share the love and post about the sign ups! :) I can't wait to see what you choose!