I love surprises. Happy letters in the mailbox, finding a dollar in the bottom of my purse, unexpected afternoons off - you know what I mean.
So imagine my delight when I discovered I won a $50 gift certificate to
Venezie Designs
in the Sew Mama Sew Giveaways. Somehow I had missed her
post
on Thursday and just found out today! Yippie!
Can't wait to pick out some new fabric- fun, fun!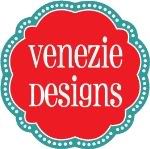 When you have a chance, pop over to
Venezie Designs
and check out the fabulous sale she's having! She has lots of cute clothing, bag and quilt patterns over there too.
And don't worry if you missed out on the
Charm Swap
. I was so happily surprised with all the interest, that I will definitely do another one soon!
I've been busy trying to finish several works in progress over here and am stalled on a few fronts. I have three quilt sandwiches sitting on my table ready to go...
New Newbie Bee Blocks for May/Megan
I did manage to complete my bee blocks for May (just under the wire!) Here are the blocks I made for Megan in the
New Newbie Bee
. They were fun and surprisingly easy to make plus I "had" to buy black and white fabric (twist my arm) to make them as I had none in my stash.
The white and cream really stand out in this picture but they are not so contrasted in real life. I hope Megan likes them. Can't wait to see her quilt put together.
Hope you are having a wonderful Memorial Day weekend.
I'll leave you with a picture of my sweet boy just because he is the cutest ever.