The swap is now full. I promise to do another one very soon.
I really hated turning people away! Thank you all for your interest!!!
Ready, set, let's swap!
When I saw
AnneMarie's
swaps at
Gen X Quilters
, I knew she had a great idea. So I decided to host a swap here.
It's going to be fun and super easy for you too.
We are going to swap charm squares in a rainbow of colors.
1. Each person will be assigned a color. Once all the swap slots are filled, I will email you your color assignment. (red, pink, orange, yellow, green, blue, purple)
2. Purchase a yard of fabric in your assigned color. No solids please. Take note of the scale of the print as large prints might not be best for charm squares.
Pick something you
LOVE
!

3. Fabric must be designer label, 100% cotton, quality fabric.
No Hancocks, Joanns or Michael's fabrics.


4. Fabric must be new and unwashed and must come from a smoke free environment.


5. Before sending your fabric to me,
you will need to cut your fabric into 5" x 5" charm squares
.
Press your fabric before cutting. You may want to purchase a slight overage in case you make mistakes cutting your charms.
1 yard = 56 charm squares (5" x 5".)
This
is a great tutorial on
how to cut fabric into charms
by Elizabeth Hartman.
6. Include a 3x5 index card with your name, email address, mailing address, fabric manufacturer and the print name/color. (This information is purely for my organizational swap purposes and won't be shared. Promise!)
Shipping Instructions:
1. Pack your 56 charms and the index card in a sealed ziplock bag and include a self addressed envelop for me to mail your charms back to you.
2. You will receive a Paypal invoice from me for shipping and handling. The $4.00 (USA) rate will cover shipping plus the P.O. Box rental. International shipping and handling will be determined by country.
3. Paypal payments must be made before I will send your swap charms back to you. If you don't have a paypal account, no worries! You can still pay through Paypal with a credit or debit card without having an account. :)
The Fine Print:
Your fabric must be sent to me by Saturday, June 25
. Once I receive everyone's fabric I will divide them up and mail your new charms to you within two weeks.
This will be a great way to add a rainbow of color to your charm stash and perhaps the beginning of a great, colorful quilt.
Fabric Examples: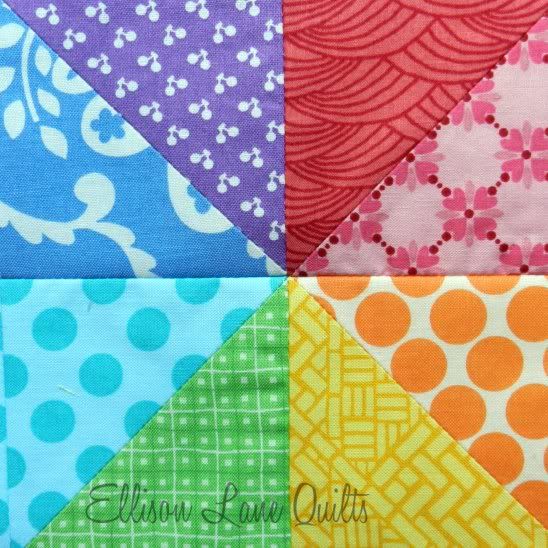 Dominant color fabrics perfect for this swap.
Non dominant color fabric that is pretty but not right for this swap.
So, who's in? If you want to participate, there are 27 spaces available. Each person will receive 2 charms of each print, 56 charms total.

Leave a comment here to sign up and make sure you include your email address in the comment section.

Grab a blog button if you like and get ready to add some color to your stash.
This will be fun!